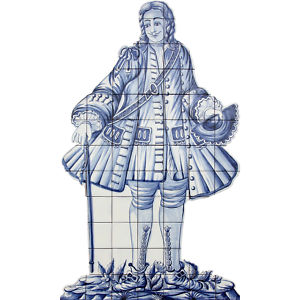 I'd like to thank historical novelist Jessica Knauss for sponsoring "The Historical Fiction Blog Hop", where writers post a 10 sentence excerpt from a book they are working on. It is my pleasure to share from my current work-in-progress, Cut From The Earth, a story of Portuguese tile and its surprising makers — The Great Lisbon Earthquake of 1755 — and the wisdom of nature to guide and  heal.
It is November 1, 1755, All Saints Day in Lisbon, Portugal — most of the city's populace is at church or getting ready to go, when "The Great Lisbon Earthquake" strikes with mayhem to follow…
Excerpt
"A jolt shot through Piloto's body, ejecting the tile from his hand.  It shattered.  He dropped the iron-tongs. They clattered to the floor. Barrels of chalky glazes shook, their thick soups boiling over their rims, mixing paddles churning.  The viscous substances ebbed and flowed: manganese-browns, copper-greens, cobalt-blues, iron-oxide oranges, creating an amalgam of colors on the ground. Rolling pins fell off counters, and ricocheted end on end before congregating in a pile, next to the vats.  Dried goat balls the size of peaches vaulted to the floor, paint squirting out their nozzle ends.  Buckets of paintbrushes careened, the brushes scattering like plucked feathers.  Work pedestals spun.  Small glass jars of pigments vibrated across tabletops; others wobbled off, exploding.  Water spilled from barrel containers, housing gooey slip used to join clay pieces, and formed puddles on the floor's low spots…"
For more information about the novel please see blog post
"The Next Big Thing"
and
my 

"Historical Novel"

 
page where you can read the complete excerpt this clip was taken from and more about the book.