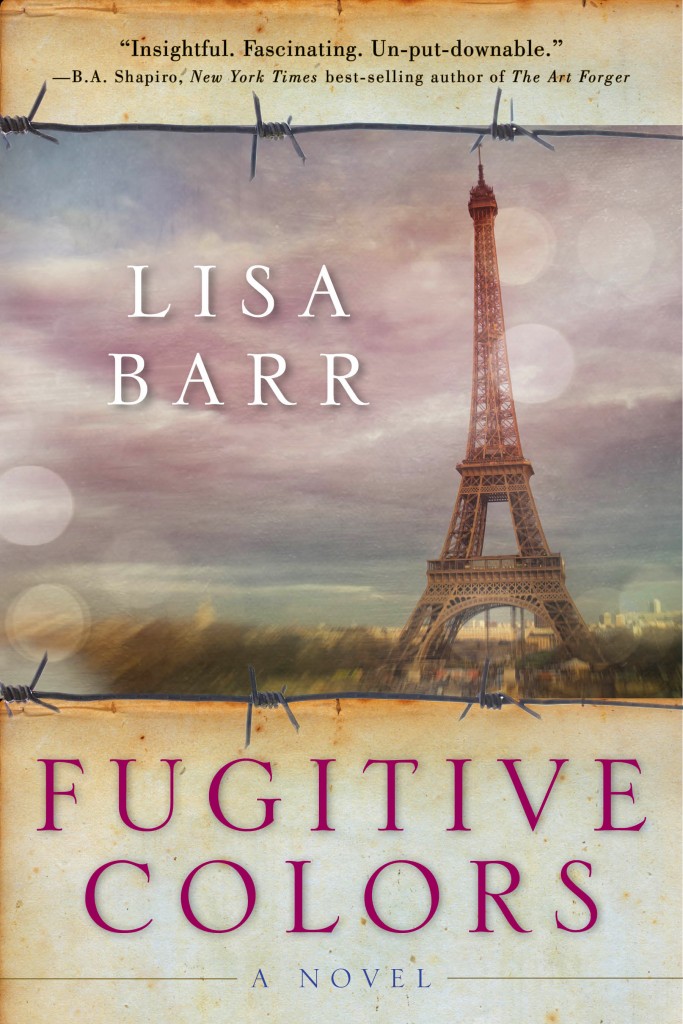 Some novels are an honor to read because the story is so vital to humanity and history, Fugitive Colors by Lisa Barr is one such story.
Written in bold and emotive strokes like the Expressionist painters and modern artists the novel tributes one can't help but be deeply moved by this arresting and driving drama.Told with heart and precision, one is drawn into the Parisian and German art world at the onset of World War II.
Fleeing his American Jewish past, painter, Julian, enters the Paris art scene, having no clue the course his life will take when he is welcomed into an artist circle of friends made up of the talented couple Rene and Adrienne and German born Felix. Julian is young, talented and devoutly devoted to art. Barr reveals the Paris avant-grade modern art scene through the art studio of Dubois and Gallerie Rohan-Levi as the group of friends play out their passions, jealousies abound, while the Nazis rise to power. Lured to Germany to attempt to heal a rift in their their friendship with Felix, Julian and Rene find themselves at the doorstep of the local Expressionists' plight to save their art and livelihood as Hitler and his henchmen are pledged to purge those connected with and creating modern art. A dangerous and devastating struggle unfolds, and the victims and the costs are beyond belief and will tear you at your very soul. If you love humanity and the arts, this novel will touch you at your core, as it gives passage into the eye of destruction and resurrection after all has been seemingly lost. You'll be surprised as to what unravels in the end.
When your fingers to brush, to paint, to canvas are your life soul and line, what won't you do to save that which connects you and others with the sublime, the divine?
Stephanie Renee dos Santos:  Fugitive Colors features German Expressionist painters Ernest Engel and Max Kruger, are their stories based on historical facts? 
Lisa Barr:  Hitler and his posse despised the avant-garde — particularly Cubists, Dadaists, Surrealists, and especially his homegrown band of German Expressionists, who fell into two groups of artists — Die Brücke (The Bridge) and Der Blaue Reiter (The Blue Rider). The Expressionists painted the emotion that a subject evoked, rather than the subject itself. Nature, people, architecture were a wild collage of chaotic and lush brush strokes. Nothing made sense, and yet the provocative imagery brilliantly impacted the viewer. Expressionism drove the orderly, neo-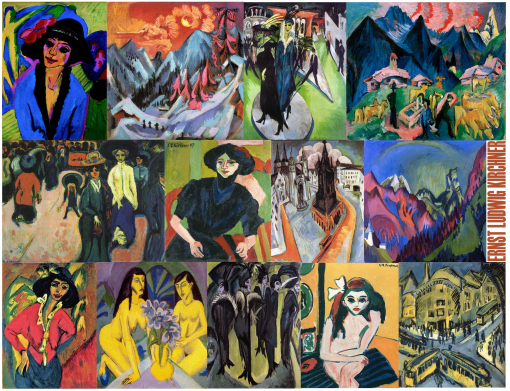 classical-loving Nazis crazy. Among the household name "Degenerates" were Beckmann, Kirchner, Marc, Dix, Nolde and Heckel. Two of my main characters, Expressionists Ernst Engel and Max Kruger, are based on a composite of these artists. Details were drawn from where they went to school, to where their work was shown, to experiencing a similar fate once they were forbidden to paint (and later, when their works were confiscated and destroyed) — suicide, murder, smuggling, hiding, fleeing the country, and sadly, in some cases, betraying one another in order for their own works to survive the Nazis cultural terrorism. Many of these Expressionists' works were shown at the official Nazi exhibition of Entartete Kunst or "Degenerate Art", which opened in Munich on July 19, 1937,  to portray an age of "decadence and chaos." This exhibition was also the most widely seen display of modern art ever. In Munich alone, there were more than two million visitors. Both Engel's and Kruger's artwork were also exhibited at that exhibition — mixed in with "real" artists of the day.
SRDS:  What compelled you to include art and artist in your historical novel? 
LB:   It was 1991, and at that time I was serving as the managing editor of a woman's magazine in Chicago. I was also 150 pages into another manuscript. I was sent by the magazine on assignment to cover the "Degenerate Art" exhibit at the Art Institute of Chicago. Entering the museum, I literally stopped in my tracks—I had found my story. I knew at that moment I would push aside the other manuscript. What I saw at that exhibit would later morph into the historical-fiction tale of my debut novel Fugitive Colors. Even as a daughter of a Holocaust survivor, I never knew about the Nazis' relentless mission to destroy the avant-garde—particularly painters. Hitler and his henchmen went after the German Expressionists with a vengeance never seen before in art history. I am a writer not an artist, but I needed to understand what made someone like Adolf Hitler both a murderous madman and an artist. For Hitler, his hatred for the avant-garde was not political—it was personal. He was considered a third-rate artist who, once in power, wanted payback. I wanted to—had to— explore this in depth. Once the ideas began percolating, I knew that I was going to utilize my journalism skills to turn a little-known piece of Holocaust history into good fiction. It became an issue of no choice: I had to write this novel.
SRDS:  What drew you to your specific visual art medium, artwork, and/or artist?
LB:  I love art, but I have no background in art, yet I do have a strong background in investigative journalism. Once I had my story line, I began to research the fate of the Expressionists under the Third Reich. Once I began exploring, it became a series of a-ha moments. My goal as a writer was to teach this piece of history through osmosis— to "bring it on" through fiction. Expressionism, which focuses on the emotion not the subject — had me at "hello". Ask my kids and my husband — I do not run on logic — I'm emotional to the bone. This aspect of art spoke to me, drew me in. I wanted to create a story, a thriller, filled with drama, love, lust, friendship, and revenge to convey the most important quality of any artist: passion. I particularly wanted to explore how far would an artist go for his or her passion. Would he kill for it, like my "evil" character Felix von Bredow? Would he paint to his last dying breath, like the handsome and über-talented René Levi? Or would he protect art at all costs, like my protagonist Julian Klein. It was also immensely enjoyable as a woman to write about the fate of three young male artists, and how their passion for art both united and destroyed them. Of course, there are strong women in my novel (a non-negotiable), and plenty of lustful moments in between the brush strokes.
SRDS:  What unique historical objects and/or documents inspired the story?
LB:  I knew everything historical in this novel had to be true, verified, fact-checked. The research alone took me more than four years. I traveled to Europe, I researched testimonials, artwork, I spoke to survivors, I read everything I could get my hands on. Two major works — Lynn H. Nicholas' masterpiece,"The Rape of Europe: The Fate of Europe's Treasures in the Third Reich and The Second World War", and Stephanie Barron's powerful exhibit and book "Degenerate Art: The Fate of the Avant-Garde in Germany", were my most important resources. I also interviewed the grandson of an aristocratic Nazi family for hours. I spoke to those who were investigating stolen art, as well as to those whose artwork had been stolen. I did not begin writing until I felt satisfied that no stone had been left unturned. My main characters are composites of real artists, real art dealers, real Nazis. And then . . . I was put on bed-rest for nine months (yes, nine!) while pregnant with my eldest daughter. That's when I got down to business and wrote the first draft of Fugitive Colors, from my bed in Jerusalem (where I was then living and working as a reporter).
On an emotional/artistic level, I wanted to explore the concept of rejection and shame. There is no greater shame than being an artist without talent. One of my main characters, Felix von Bredow—like Adolf Hitler—wanted other artists to suffer because of his own lack of talent.
SRDS:  Is there an art history message you've tried to highlight within the novel?
LB:  I believe what was really going down culturally in Germany in 1933 was this: a division had been created—not of men, but of talent; the haves and have-nots—equally dangerous.
Ironically, Hitler's War began with art, and it's incredible to me that nearly 70 years after the Holocaust, stolen art is still making front-page news. I always say if only art could talk . . . thousands of stolen paintings have a hidden past just waiting for the truth to be exposed.
According to the Jewish Claims Conference, the Nazis seized an estimated 650,000 artworks and religious items from Jews and other victims. The artwork that has been returned to the rightful owners is just a drop in the bucket, if that. Yet, I truly believe that this country-by-country exposure of stolen art – Germany, Austria, Norway, Canada, France, etc., will soon travel from Europe to our front door – where similar murky "unknown" histories of beloved artworks hanging in major museum and private collections will surely be unveiled. Like everything else, it's all just a matter of time. There is nothing black or white within the pages of "Fugitive Colors". It's all about the grey; a secret history that I am determined to unveil, in hopes of bringing THIS lost legacy to light.
SRDS:  What fascinating information did you uncover while researching but were unable to incorporate into the book, but can share here?
LB:  I started researching this book 18 years ago — this was before "Monuments Men" and "Woman in Gold" (fabulous by the way) came out — and it was back then a little known aspect of Holocaust history. Most provocative were my dealings with those who were trying to get their stolen paintings back from governments and museums who were determined to hold on to this precious artwork. My conversations with those seeking the return of their artwork were all off-the-record for obvious legal reasons — and now several of those who I had the opportunity to interview over the years have had their paintings returned. But this is a fight that's going to continue for years to come. I had no idea how big this story was when I began writing, and how many countries are still harboring stolen artwork. I started with a "this subject is really fascinating" to Wow — this is way bigger, much more intricate than I'd ever imagined.
SRDS:  Any further thoughts on art in fiction you'd like to expand on?
LB:  I think all of us art-in-fiction types have had those moments, especially as children, imagining what it would be like to jump inside a painting (Forget Cabo —Give me Monet's Giverny any day!). And then as a writer, you think, I can really make that happen, and bring my readers with me on that journey, inside that painting, inside the thoughts of that artist. I have three teenage daughters. So for me, as a Mom/Writer it all comes down to sharing your love of art with the next generation. Dig deep, and explore their imagination … show your kids that through art, they can release their anger, they can explore love, and most of all, they can self-reflect. Believe me, there is no greater truth than a this-is-my-family drawing by your five year old. Encourage expression, lead the way, and I guarantee we will create a new generation of art-in-fiction aficionados.
SRDS:  Are you working on a new historical novel with an art tie-in? If so, will you share a little with us about your next release?
LB:  I pondered writing a sequel to Fugitive Colors, and then I decided after spending so many years on this book, I needed a break do something entirely different— more contemporary yet still a historical page-turner— which is definitely my thing. I'm excited for this summer to really delve into my next novel.  That said, "Fugitive Colors" will always be my baby. I cried when the book was finished, and I was (off-the-record) madly in love with my main character (though he is 20 plus years my junior … but hey, who's counting?). What's coming next will be passionate of course, historical without a doubt, visual — and what the hell, this girl can't help it … you just may see a painting or two working its way into the pages.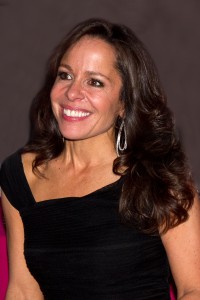 About the author:  Lisa Barr's award-winning debut novel Fugitive Colors, a suspenseful tale of stolen art, love, lust, and revenge on the "eve" of WWII, won the IPPY gold medal for "Best Literary Fiction 2014″. Fugitive Colors was named one of HEEB Magazine's "Top 10 Best Books" in 2014, and won first prize at The Hollywood Film Festival for "Best Unpublished Manuscript (Opus Magnum Discovery Award).
A journalist for more than 20 years, Lisa served as an editor for The Jerusalem Post for five years, covering Middle East politics, lifestyle, and terrorism in Jerusalem. Among the highlights of her career, Lisa covered the famous "handshake" between the late Israeli Prime Minister Yitzhak Rabin, the late PLO leader Yasser Arafat, and President Bill Clinton at the White House.
Following the assassination of Prime Minister Rabin, Lisa profiled his wife Leah for Vogue magazine, and they maintained a friendship until Mrs. Rabin's death. She later served as managing editor of Moment magazine based in Washington, DC, which was co-founded by Nobel Peace Prize winner Elie Wiesel. Most recently, she worked as an
editor/staff reporter for the Chicago Sun-Times, covering lifestyle, sex & relationships, and celebrities. She earned her master's degree from the Medill School of Journalism, Northwestern University.
Lisa is also the creator of the popular website and blog "GIRLilla Warfare: A Mom's Guide to Surviving the Suburban Jungle" (girlillawarfare.com) which launched in May 2012. Her greatest joy is raising her three beautiful daughters, and "coffee time" with her husband David Barr. She lives in Chicago with her family, two dogs, and lots of girl drama—fodder for her next novel.
For more about Lisa's works:  Amazon: tinyurl.com/pdav8ym ;  Book Site: www.fugitivecolorsthenovel.com ; Twitter: @lisabarr18 ; Facebook: https://www.facebook.com/FugitiveColors
To buy:  Fugitive Colors
Join us here June 27th for an interview with bestselling author Lynn Cullen, author of The Creation of Eve!
Interview posting schedule:  
2014: August 30th Susan Vreeland, Lisette's List (new release), September 27th Anne Girard, Madame Picasso (new release),October 25th Yves Fey, Floats the Dark Shadow, November 29th Mary F. Burns, The Spoils of Avalon (new release), December 27th Kelly Jones, The Woman Who Heard Color 
2015: January 31st Heather Webb, Rodin's Lover (new release), February 28th Alyson Richman, The Mask Carver's Son, March 28th Maureen Gibbon, Paris Red (new release), April 11th M.J Rose, The Witch of Painted Sorrows (new release), April 25th Lisa Brukitt, The Memory of Scent, May 30th Lisa Barr, Fugitive Colors, June 27th Lynn Cullen, The Creation of Eve, July 25th Andromeda Romano-Lax, The Detour, August 29th Frederick Andresen,The Lady with an Ostrich Feather Fan, September 26 Nancy Bilyeau, The Tapestry (new release), October 31st Laura Morelli The Gondola Maker
Join Facebook group "Love of Arts in Fiction"!