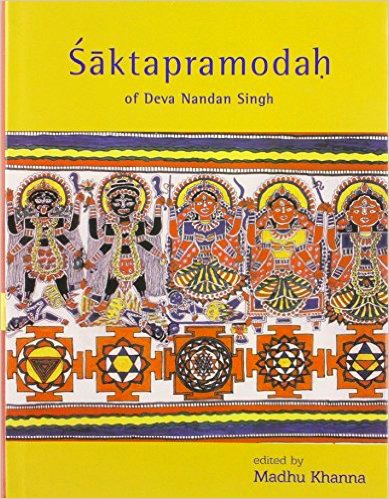 Today, more than ever, empowering Sakta teachings are relevant and needed, as we seek ways to transform ourselves in order to meet the challenges of our day. The Śāktapramodaḥ of Deva Nandan Singh, edited by Madhu Khanna, is one such ancient text that has guiding goddess wisdom applicable to the now. Khanna, a distinguished scholar of Indic Religion, who earned her PhD from Oxford University in Hindu Sakta Tantra is the author of multiple important books and academic papers that provide access to yoga practitioners into the heart of tantric teachings. Her PhD dissertation, The Concept and Liturgy of the Sricakra Based on Sivananda's Trilogy (Oxford University, 1986), was one of the first contemporary comprehensive examinations of the Srikula lineage of Sakta worship.
Her latest release, the Śāktapramodaḥ of Deva Nandan Singh, is an edited compendium of sixteen tantric ritual manuals in Sanskrit, covering ten texts on the Mahavidhyas, the Kumari Tantra, and the five Tantras of the Five Gods called the Pancayatana.
The book opens with a 97 page introduction written in English which provides the text's historical background, elucidates its subject matter, and offers details on applied practices.
The first edition of the Śāktapramodaḥ, which translates as "Joy of Goddess Worshipers", was published in 1891, followed by a second edition in 1894, and now Khanna's 2013 edition. The initial edition was a work compiled by Raja Deva Nandan Singh Bahadur, an aristocratic zamindar, who had amassed a significant collection of Sakta texts. His motivation for the creating the Śāktapramodaḥ was to re-invigorate Kali worship in his region in India, to counter fraudulent Sakta teachers of his time, and for the benefit of Sakta worshipers to have what we'd call today a "go-to" manual for reference and practices.
The Śāktapramodaḥ of Deva Nandan Singh  edited by Madhu Khanna is an authoritative portal into the origins and worship of the Dasha Mahavidyas (Ten Goddesses of Transformation), a collective of deities: Kali, Tara, Sodasi, Bhuvanesvari, Chinnamasta, Tripurabhairavi, Dhumavati, Bagalamukhi, Matangi and Kamala. In English, each goddess is address one-by-one, exploring the historical cultural roots, unique traits, and interrelationships between the goddesses, along with specific ways to worship. Khanna's presentation of the Mahavidhyas is riveting and in depth. Plus, she references her source texts, empowering each of us to seek further should one like to do so.
In addition, Khanna clearly explains the step-by-step process of the Devi Puja "goddess worship", presenting the different stages and the sequence of practices that were derived from authoritative tantra ritual manuals. Include are the ten parts of worship: (1) dhyana of the deity; (2) yantra; (3) mantra; (4) puja-vidhi; (5) stotra; (6) kavaca; (7) hrhaya; (8) upanisad; (9) satanama/astakam; and (10) sahasranama. This is extremely helpful and useful for those who are curious and would like to pursue practice of this pathway towards moksha,  liberation.
Khanna goes on to introduce the reader to the ongoing ancient practice of the Kumari Tantra, devotion to a living virgin child who embodies Sakti, a tantra which abolishes all distinctions and barriers of class and caste.
Thereafter, Khanna covers the Tantras of the Five Gods called the Pancayatana, with an exploration of this grouping of five deities: Durga, Siva, Ganesa, Surya and Visnu. The tantras of this collection are organized with Durga coming first, i.e., in the most prominent position, reflecting the Sakta influence of the supremacy of Goddess.
Khanna concludes the introduction with an explanation of the mode of worship of the five Pancayatana Tantras which exposes how the dominate Smarta tradition incorporated aspects of tantric practice into its worship. Thus, Khanna challenges the popular assertion that tantric practices were peripheral forms of worship and in opposition to the mainstream religious beliefs of India. We can understand, through Khanna's explanation, that this isn't the case, that in fact, there was an intermingling of the two. There is still an enormous corpus of Sakta texts yet to be thoroughly examined and Khanna encourages continued research.
The book's cover depicts an exquisite Mahavidya painting in the Mithila style painted by Bhattoji Jha. This book is a must have text for those interested in or studying and practicing with the Mahavidyas and wanting to learn about the Kumari Tantra. This is an inspiring read and will become an important reference text for those who wish to explore these transformative tantric teachings. And for those who read Sanskrit, it will be a treasure trove of practice and wisdom. I highly recommend that this book become part of your permanent library.
The Śāktapramodaḥ of Deva Nandan Singh, edited by Madhu Khanna, can be purchased from Amazon or is available from DK Printworld. Hardback, 728 pages.
To Buy:  The Śāktapramodaḥ of Deva Nandan Singh, edited by Madhu Khanna
Words to describe this book: authoritative, clear, concise, riveting, in depth, inspiring.
Madhu Khanna is founder and director of the Tantra Foundation in New Delhi, India. Her other publications: The Tantric Way (1977) co-authored with Ajit Mookerjee; Yantra: The Tantric Symbol of Cosmic Unity (1994); The Cosmic Order (2004);  Asian Perspectives on the World's Religions After September 11 edited with Arvind Sharma, (2013); forthcoming publication The Sricakra as Tripurasundari, History, Symbol and Ritual.