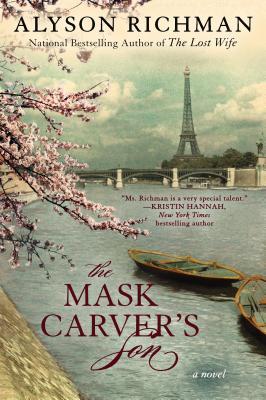 The Mask Carver's Son by Alyson Richman is poetic and stirring, with tender and revealing artistic, cultural, and historical details. The story begins in 1890 near the Daigo mountains within the walls of Kyoto, Japan just before the onset of a turning point in Japanese history. Richman takes us inside the fragile paper walls of customs and those of sad luck.Through the ancient arts of the Noh theater and the constellation of artistic traditions that made up and supported this high art form we meet Ryusei, the tormented and gifted mask carver , and the renowned Yamamoto family. From an arranged marriage and subsequent tragedy Kiyoki is born, a son with longings that mirror the country's changing times. Instead of desiring to carry on his father's craft of mask making, he wishes to embrace oil painting. An ambition which will bring him great pleasure and anguish as he dreams of studying in Paris, France with the inspiring and vibrant Impressionist painters.
The rhetoric, the art history, the philosophy, the superstitions, and intimate details of this novel left me awed and at moments stunned by their exquisiteness. The scenes are evocative and emotive set in various places in Japan and Paris making one long to travel back to this time. One feels intensely the profound struggle between honoring tradition and family and the longings of the adventurous creative heart and the price paid for following one's dreams. What can one do when you know in the depths of your soul that you must break away from your heritage? And how to honor one's father, and yet fulfill one's own destiny?
Many creative purists have their price, and the leaving behind of a way of life, one time-honored and as beautiful as the Noh theater is no light feat…Let the crowd gather, the actors grace the stage, with hand-carved masks infused with the souls of ancestors….a legacy with deep roots that cling to old bedrock as change abounds above… the great pine tree dying, branch by branch as a new sapling of another takes hold and grows forth, producing new blooms….but all at a cost of the magnificent venerable tree that has given so much…
Stephanie Renee dos Santos:  What kinds of special challenges did you encounter while writing The Mask Carver's Son since the story is set in a time and place and focuses on an art form that is little known outside of Japan? How did you meet these challenges?
Alyson Richman:  This is a wonderful question, Stephanie. You're right. I couldn't assume that the majority of my readers would be familiar with Meiji period Japan or the artistic traditions of the Noh theater when I was writing "The Mask Carver's Son." So right from the beginning, I tried to create a strong visual world for the reader. Since the novel is written in first person, Kiyoki's voice allows the reader to see everything through his "artistic lens." You feel as though you're in the room with him as he watches his father carve the Noh masks. You can see the father's hands as he grasps his chisels or grinds his pigments. In a sense, I wanted to create a world where my sentences painted a world for the reader.
The greatest challenge was trying to convey the silence between Kiyoki and his father. The Japanese culture avoids confrontation, so I knew I had to find another way to communicate the sense of strain between these two men. Both of them are artists, so I tried to create different ways they could communicate their emotions through their work since it was culturally impossible for them to use words.
SRDS:  What compelled you to include art and artist in your historical novel?
AR:  "The Mask Carver's Son" was my debut novel and it originated after I spent my junior year in college as an apprentice to a Noh mask carver in Kyoto, Japan.  I remember sitting in the tatami room with my teacher and four other apprentices and thinking to myself: "here I am a young Western woman studying a traditional Japanese art form, when did the reverse occur?  When did the Japanese first begin to study European art?"  After I returned to college for my senior year, I applied for a grant to research the first Japanese artists who traveled to France to study painting in the European tradition.
SRDS:  What drew you to your specific visual art medium, artwork, and/or artist?

AR:  I spent nine months in Kyoto carving a single mask. I wanted to incorporate my own artistic experience into this novel. I decided to create the character of Kiyoki, a young man who is born the son of one of Japan's great mask carvers, but decides to forsake his ancestry and follow his own artistic path to Paris. I loved writing the scenes of the novel that drew upon my own background with mask carving. I savored the chance to bring to life the smell of freshly carved cypress wood, the silver gleam of a set of carving chisels, and the intimate space of a tatami studio.
SRDS:  What unique historical objects and/or documents inspired the story?
AR:  I really wanted to show the internal conflict within Japan during the Meiji period. Up until 1868, Japan practiced an isolationist policy – no one was allowed to enter or leave the country except for the Dutch traders who were allowed to enter the port of Nagasaki. "The Mask Carver's Son" is not just a novel that explores the relationship of a father and son with two different artistic passions, but also the conflict between the old and new generations of Japan. The nation was split between those who wanted to advance into the modern world and those who wanted to cling to ancient traditions.
SRDS:  Is there an art history message you've tried to highlight within the novel?
AR:  I think the journey of the artist is often fraught with personal perils. Kiyoki sacrifices his relationship with his father and struggles with a sense of outsidership as he pursues his life as an artist. He cannot escape the fact that he's visibly different from his European colleagues, even though his artistic interests are the same as theirs. And when he returns to Japan, he cannot escape that he's different from his fellow Japanese because his experience in Europe has changed him.  In the end, Kiyoki exists as an artist caught between two worlds.
SRDS:  What do you think readers can gain by reading stories with art tie-ins?
AR:  I hope readers learn about the history of the time period as well as the dedication and sense of craft of required to be an artist.
SRDS:  What fascinating information did you uncover while researching but were unable to incorporate into the book, but can share here?  
AR:  It's a wonderful question, Stephanie. I based the character of Hashimoto on a real life artist by the name of Tsugharu Foujita. He had such an interesting life. He married a French woman, converted to Catholicism, and spent much of his life living in France. I wish I could have covered more of his life in the novel.
SRDS:  Any further thoughts on art in fiction you'd like to expand on?
AR:  I love the ability to explore the creative life of an artist in my writing. I wanted to be a painter when I was little and now I feel as though I've been able to incorporate my love of art with my love of writing.
SRDS:  Are you working on a new historical novel with an art tie-in? If so, will you share a little with us about your next release?
AR:  My next book, "The Painted Dove" explores the mystery surrounding the nineteenth century French courtesan Marthe de Florian and her Paris apartment that was kept as a time capsule for over seventy years. When the apartment was finally unlocked, a magnificent portrait was discovered of Madame de Florian by the Italian artist Giovanni Boldini.  Stay tuned for that novel in 2016!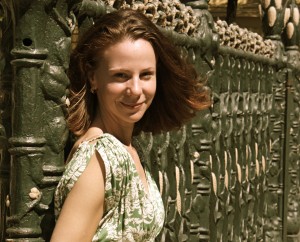 About the author:  Alyson Richman is the internationally bestselling author of The Lost Wife, as well as four other historical novels: The Mask Carver's Son, The Rhythm of Memory,  The Last Van Gogh, and the recently published The Garden of Letters. As of next year, her novels will be published in eighteen languages. The daughter of an abstract painter and an engineer, her novels are known for weaving art with extensive historical research. The Lost Wife is now being adapted to be a major motion film by Relativity Media. Ms. Richman is a graduate of Wellesley College and a former Thomas J. Watson Fellow. She lives with her husband and children in Long Island.
For more about Alyson's works:  http://www.alysonrichman.com/
 To buy:  The Mask Carver's Son
Join us here March 28th for an interview with Maureen Gibbon, author of Paris Red!
Interview posting schedule:  
2014: August 30th Susan Vreeland, Lisette's List (new release), September 27th Anne Girard, Madame Picasso (new release),October 25th Yves Fey, Floats the Dark Shadow, November 29th Mary F. Burns, The Spoils of Avalon (new release), December 27th Kelly Jones, The Woman Who Heard Color 
2015: January 31st Heather Webb, Rodin's Lover (new release), February 28th Alyson Richman, The Mask Carver's Son, March 28th Maureen Gibbon, Paris Red (new release), April 11th M.J Rose, The Witch of Painted Sorrows (new release), April 25th Lisa Brukitt, The Memory of Scent, May 30th Lisa Barr, Fugitive Colors, June 27th Lynn Cullen, The Creation of Eve, July 25th Andromeda Romano-Lax, The Detour, August 29th Frederick Andresen,The Lady with an Ostrich Feather Fan, September 26 Nancy Bilyeau, The Tapestry (new release), October 31st Laura Morelli The Gondola Maker 
Join Facebook group "Love of Arts in Fiction"!