Authors E.M Powell (The Fifth Knight and the soon-to-be-released The Blood of the Fifth Knight) and Alan Fisk (Cupid and the Silent Goddess and other titles) both attend and contributed to the lively interactive discussion at the 2014 London Historical Novel Society Conference panel-talk "Art and Artist in Historical Fiction:  The special challenges of writing about art and artists". I thought it would be interesting to follow up with some of the writers who attended the talk to hear their impressions and what they gleaned from our time together. 
Here's what they have to say…
Stephanie Renee dos Santos:  What initially drew you to this panel-talk?
Elaine Powell:  I thought it was an intriguing topic and I wanted to find out more. I know and have met so many writers but not so many artists. I wasn't disappointed!
Alan Fisk:  I was interested in finding out how other writers had been inspired by artists and works of art, and how they had dealt with the challenges of integrating that inspiration into a story.
SRDS: What insights and/or useful information did you gain from the discussion (if any!)?
EP:  So many! I knew quite a lot about Bletchley Park and knew of 'Black' propaganda from other sources. But Alicia Foster's description of the whole process of producing leaflets that would be dropped from planes over enemy territory was riveting. It would never have occurred to me that the artists had to take into account the weight of the ink and paper when producing their work. I'm sure it's not a usual factor when producing salacious images!
I could have listened to Michael Dean talk about Hitler as an autistic artist savant all day. Again, it was Michael's technical understanding of Hitler's art and how clearly he explained it that made it so compelling. Equally so his knowledge of Hogarth as a painter as well as a historical figure.
And something else I had no idea about: lacquering? But Patricia O' Reilly knew so much about the process and brought the work of artist Eileen Gray to life. It was so interesting to hear about the physical demands (lacquer burns!) in the creation of something beautiful.
Stephanie Renee dos Santos and her account of tile making again provided a vivid account of the sheer physicality of her art. The feel of clay in her hands, the scent of tiles baking: again, these were aspects that wouldn't have occurred to me, the non-artist.
AF:  I saw how other authors had used a variety of techniques to set the background and historical context of their fiction, and what characteristics of the times and places they had chosen to emphasise.
SRDS:  Now, how will you apply this newly acquired knowledge to your writing?
EP:  I do have someone in the current WIP [work-in-progress] who is a medieval scribe. But I think I will be able to get deeper under his skin and make sure I include the physical challenges of producing his illuminated manuscripts- which are of course works of art!
AF:  This will be an unsatisfactory answer: I've decided to retire from writing. From now on, I'm going to concentrate on promoting my existing novels, and intend to self-publish one of my out-of-print ones. Although I have several ideas for novels, I don't feel the spark of excitement that has motivated me to write 10 novels in the past (two of which ended up in the garbage, which was the right place for them).
SRDS:  Anything else you'd like to share, touch on?
EP:  Just to say thank you for such a wonderfully friendly and engaging session, and for giving me a glimpse into the perspective of the artist.
AF:  When I wrote my own art-related novel, Cupid and the Silent Goddess, I didn't have an interest in art-related fiction as a genre. I had long been fascinated by the painting, and wanted to find a story that would feature it. I settled on a fictional imagining of how it might have been created, and did only as much research as I needed to on the painting techniques of the time. It's easy to forget that the story comes first, and the history and background come second. Cupid and the Silent Goddess features a character with what would now call autism, so I had to research that as well, but I only included as much of that in the novel as I needed to.
SRDS:  Thank you, to both E.M Powell and Alan Fisk for sharing your thoughts on this panel-talk. It was great to have the chance to exchange on this topic and explore it further with each of you. And I'm excited to annouce that this panel-talk "Art and Artists in Historical Fiction" will be held next at the 2015 Denver Historical Novel Society Conference in the USA on Saturday the 27th of June, featuring more insights into this topic from writers of art-based historical fiction Stephanie Cowell (Claude & Camille) , Donna Russo Morin (The Kings Agent), Mary F. Burns (Portraits of An Artist and The Spoils of Avalon), Alana White (The Sign of the Weeping Virgin) and myself (Cut From the Earth). Readers and writers please join us at the conference! We look forward to meeting and talking with you about this fascinating niche…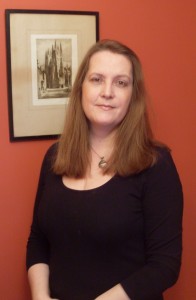 About the author:  E.M. Powell is the author of medieval thriller The Fifth Knight which was a #1 Amazon Bestseller. The sequel, The Blood of the Fifth Knight, will be published by Thomas & Mercer on January 1, 2015. Born and raised in the Republic of Ireland into the family of Michael Collins (the legendary revolutionary and founder of the Irish Free State), she now lives in the north west of England with her husband and daughter and a Facebook-friendly dog. She is a member of the Historical Novel Society, International Thriller Writers and Romance Writers of America. She is a reviewer for the HNS (fiction and non-fiction).
For more about E.M Powell's books visit: www.empowell.com  To purchase The Fifth Knight and pre-order The Blood of the Fifth Knight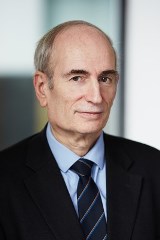 About the author:  Alan Fisk's novels include art-based historical fiction Allegory with Venus and Cupid, The Strange Things of the World,The Summer Stars, and Forty Testoons. He's had numerous short stories published and many newspaper and magazine articles in countries around the world. He's been a tutor on residential weekend courses on subjects including "Writing Historical Novels"' and "Story Theory". He's lived in England, Austria, Singapore, and Canada, working as an economist, an Air Force officer, and a technical author and editor. He now lives in London.
For more about Alan's books visit:  http://www.alanfisk.com  To purchase Cupid and the Silent Goddess