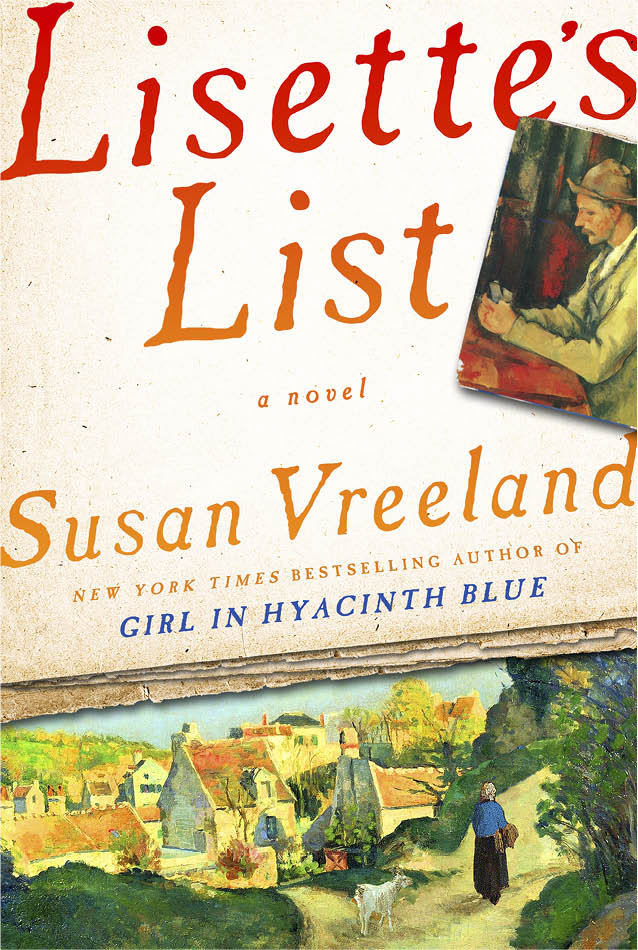 Welcome to the "Love of Art in Historical Fiction Series", a continuation of the Historical Novel Society's "Art in Historical Fiction Interview Series". Art in fiction is an ever-growing literary niche as you will see with our ongoing review/interview series.This month's featured author is Susan Vreeland and her recent release Lisette's List (Random House August 26, 2014). Yet again, Vreeland has created a vital story, one written as finely as a Pissarro painting, but in the rich colors of Cezanne's palette, of a woman awakening to the power, importance, and contributors to European art as she takes refuge and seeks consolation in Provence and Paris, France, before,in the midst of, and after World War II.
Lisette Roux departs Paris for Roussillon in southern Provence to help her art framer husband, André, care for his aging grandfather, Pascal, a former ocher miner whose pigments were used by famous painters of his day, Cézanne and Pissarro. Lisette longs to return to the vibrancy of Paris and its art scene, to pursue her dream of becoming a gallery apprentice. But surprisingly, through her caregiving and exchange with Pascal she begins to learn about art and artists. When André and his good friend Maxime, a Parisian art dealer, are enlisted in the war effort, Lisette must learn to fend for herself in her newly adopted home. As the war advances, she comes into direct contact with Marc and Bella Chagall, and a life affecting friendship develops along with a further understanding of art. The war plays out, as does everyone's new situations and complications, with an ensuing threat to lovers of art, art and artists.
In the wake of the two recent discoveries of 1,406 potentially Nazi-looted and labeled "degenerate artworks", uncovered in Munich in 2013, at the home of Mr. Cornelius Gurlitt and then at his second home in Salzburg, Austria, in 2014, Lisette's List transports us to the world and time period when these works were more than likely seized and absconded with. Through exquisite prose, poignant period and place details, and profound observations on art and war, Vreeland reveals the beauty, the struggles, and the losses of the World War II era.
Come, let the provincial light and Parisian culture warm your heart, while the mistral of war and endangered art and fleeing artists drawn by Vreeland sweep you into the past, showing what was at stake then and now, and which perhaps hasn't been completely lost forever.
Stephanie Renée dos Santos:  Where did the inspiration for your protagonist, Lisette, stem from for Lisette's List? 
Susan Vreeland:  She came from my imagination of a woman with longings to participate in the art world, not unlike my own longings, a woman displaced, and a woman open to what the new environment had to offer, even to the degree of seeing her exile as her "holy ground." It's natural for me to write a character who has a developing spiritual sense. I wanted a character whom I could love for her goodness, her forgiveness, her willingness and sincerity, qualities I cherish.
SRDS:  What drew you to the time period of the novel?
SV:  World War II, of course, which provided trauma, upheaval, and tragedy, and the threat to Europe's artistic heritage. We must not forget that under the Occupation by the Third Reich, the war brought about the vast and systematized plunder of "degenerate art," motivated by thought control, revenge, and arrogance. Hear Hitler's rant as early as 1937: "We will, from now on, lead an unrelenting war of purification, an unrelenting war of extermination, against the last elements which have displaced our Art," horrifying words later reused relating to his "final solution."
Can you imagine France without its art? The Louvre emptied and turned into an arsenal or a warehouse? A Holland bereft of its Rembrandts and Vermeers would be a land without its heritage. It's a form of rape. What does that do to a people? My love for art made me outraged.
SRDS:  How and why did you choose the book's settings, Paris and Roussillon in southern Provence?
SV:  I had to have both–Paris for the art world that Lisette would be sad about leaving, and Provence for the ochre mines, the source of pigments for paint that she would be learning about during her exile. What we have in the two locales is the primitive material culture in the geology of Roussillon which represents the origin of art, and the completion of art is suggested in the paintings of Parisian museums and galleries. The two locales serve as bookends to the process from ore to frame, from earth to majesty. Pascal embodied both.
Also, to flesh out the novel with colorful human beings, Paris and Provence provided a contrast in the stereotypes at work between northern and southern France. In general, northerners, and specifically Parisians, were stereotyped as rational, cultured, sophisticated, and reserved, whereas the ethnological type of the Provençaux have been labeled coarse, clownish, and prone to explosive passion and impetuousness. Southerners have the spirit of joy, of exuberance, and also of exaggeration. Parisian men spend their afternoons in cafés discoursing on philosophy, literature, film, art, and politics, while Provençal men spend theirs on the boules court tossing around steel balls and arguing about their landing spots. Such stereotypes provided humor and a rich well from which I could draw.
SRDS:  What unique historical objects and documents inspired the story?
SV:  Chagall's historic "Letter to the Paris Artists", 1944, was a thrilling discovery for me. His deep concern about the loss of France's artistic heritage which he referred to as the soul of France moved me deeply. Before the end of the war, during the Occupation, he wrote from his exile in the United States, "Today the world hopes and believes that the years of struggle will make the content and spirit of French art even more profound, more than ever worthy of the great art epochs of the past. I bow to the memory of those who disappeared, and of those who fell in battle. I bow to your struggle, to your fight against the foe of art and life."
The discovery of this important letter led me to see that the novel was not just a narrow story of a woman retrieving her family's seven paintings. Her experience was a microcosm of the vast rape of Europe's art by what Chagall called "satanic enemies who wanted to annihilate not just the body but also the soul–the soul, without which there is no life, no artistic creativity." After reading the letter, Lisette saw this too. By focusing on one character's experience of potential loss, I could represent the larger issue of art ownership and national patrimony which is at issue even today.
SRDS:  How is Lisette's List different from your other seven art-related novels?
SV: The novel is not centered on one artist and his or her development. That approach has given me much joy for a decade, but recently I began to feel it was too constraining. Lisette's List came from a need to outgrow that mode of turning art history into narrative, and instead, to completely invent a set of non-artist characters with their conflicts and circumstances, dipping into the lives of three painters only as they impacted pure fiction.
SRDS:  What fascinating information did you uncover while researching but were unable to incorporate into the book, but can share here?
SV:  Bits and pieces. Pissarro and [wife] Julie had seven children. Remarkably, five of them became artists. A leading spirit of the Impressionists, he was the only one who exhibited in all eight Impressionist shows. To speak of his determination, he suffered an eye infection and could no longer paint outdoors, so he painted through hotel room windows the busy urban scenes below.
New characters could have been inserted. For example, I discovered a Paris art dealer, René Gimpel, a Résistance fighter who was arrested and died in a concentration camp. He could have had him be Maxime's friend.
There are some great quotes by my three artist characters that I couldn't use. For example, amusingly Pissarro said, "God takes care of imbeciles, little children, and artists." And this lyrical sentence by Cézanne giving life to fruit: "When you translate the skin of a beautiful peach, or the melancholy of an old apple, you sense their mutual reflections, the same shadows of relinquishment, the same loving sun, the same recollections of dew." And Chagall's lament and consolation: "Neither Imperial Russia, nor the Russia of the Soviets needs me. They don't understand me. I am a stranger to them. I am certain Rembrandt loves me." What minds these men had! I revere them.
SRDS:  Which famous artists are celebrated in the novel? And why did you choose to focus on the art and artists you did?
SV:  The choice of artists was easy. Since the novel is set in both Paris and Provence, I chose two painters, Camille Pissarro who painted the areas around Paris, and Paul Cézanne who was born and lived in the South of France in Aix en Provence. The fact that they were friends who valued each other's work sealed the deal. I imagine them to have made quips about being Impressionists, Pissarro calling themselves "the dear unwanteds" and Cézanne calling themselves "the great criminals of Paris." In truth, Cézanne called Pissarro "the humble and colossal Pissarro" and "my master, mon bon Dieu." In turn, Pissarro foresaw that Cézanne would lead painters to a new aesthetic, which he did: Cubism.
Certain paintings by each of them also prompted me to choose them. I recall seeing a Pissarro painting of a girl with a goat on an ochre-colored path by her vegetable garden. Although I have lost this painting, the cover painting, Côte Jalet comes close. All the cover designer needed to do was to paint in a goat, Geneviève. Another Pissarro painting convinced me that I had chosen rightly. Le Petit Fabrique pictured a rural paint factory where the ochre pigments from Roussillon were made into oil paint. What could be more perfect?
Cézanne's landscapes around Aix en Provence displayed the countryside that I described and that so enchanted Lisette. When I discovered his three paintings of ochre quarries, he definitely fit in to my narrative.
As for Marc Chagall, imagine my surprise and happiness when I discovered that during the War and Occupation, he and his wife hid from Nazis in the closest village to Roussillon, Gordes, only nine kilometers away. Now I could give Lisette her longed for experience of being in the midst of art as it was being made. And his "Letter to the Paris Painters" expanded my story to reflect the larger threat to art at the hands of the Reich's Chamber of Culture.
And finally, one Picasso study entered the story to fill the art historical gap between Cézanne and Chagall. Maxime, the art dealer in the novel, traces the connection thus: "The visible reality expressed through the handling of light and color of Impressionism–Pissarro–moved into the solid geometric shapes of Post-impressionism–Cézanne–to the modernism of distortion and Cubism–Picasso–and finally to the post-modernism of the expression of the invisible personal reality of dreams–Chagall." And, despite the fact that their work was considered "degenerate," they all fit into place in the most satisfying way.
About the author: Susan Vreeland is an internationally known author of art-related historical fiction. Four of her eight books have been New York Times Best Sellers: Girl in Hyacinth Blue, The Forest Lover, Clara and Mr. Tiffany, Luncheon of the Boating Party, and  acclaimed novels,The Passion of Artemisia, Life Studies, What Love Sees, and Lisette's List. She has received four times the Theodor Geisel Award, the highest honor given by the San Diego Book Awards. Her novels have been translated into twenty-six languages, and have frequently been selected as Book Sense Picks. She was a high school English teacher in San Diego for thirty years.
For more about Susan's novels:
http://www.svreeland.com/ Facebook: https://www.facebook.com/susan.vreeland.9?fref=ts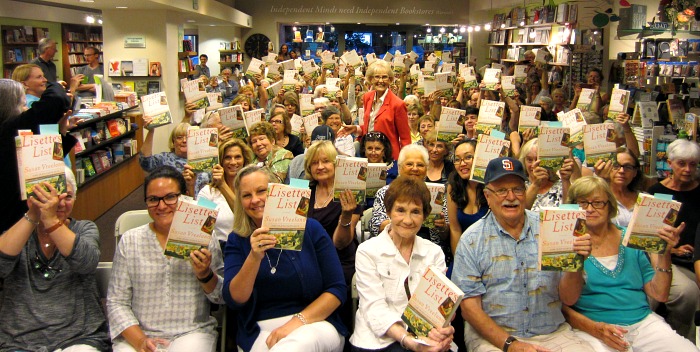 To Purchase Lisette's List: https://www.goodreads.com/book/show/20175586-lisette-s-list
The Washington Post: "Love more. Love again, Love broadly. Love without reservation." Review: 'Lisette's List,' by Susan Vreeland – The Washington Post
Join us here next Saturday September 27th for an interview with Anne Girard, author of Madame Picasso.
Interview posting schedule:  
2014: August 30th Susan Vreeland, Lisette's List (new release), September 27th Anne Girard, Madame Picasso (new release),October 25th Yves Fey, Floats the Dark Shadow, November 29th Mary F. Burns, The Spoils of Avalon (new release), December 27th Kelly Jones, The Woman Who Heard Color 
2015: January 31st Heather Webb, Rodin's Lover (new release), February 28th Alyson Richman, The Mask Carver's Son, March 28th Maureen Gibbon, Paris Red (new release), April 11th M.J Rose, The Witch of Painted Sorrows (new release), April 25th Lisa Brukitt, The Memory of Scent, May 30th, Lisa Barr Fugitive Colors, June 27th Lynn Cullen, The Creation of Eve, July 25th Andromeda Romano-Lax, The Detour, August 29th Frederick Andresen,The Lady with an Ostrich Feather Fan, September 26 Nancy Bilyeau, The Tapestry (new release)