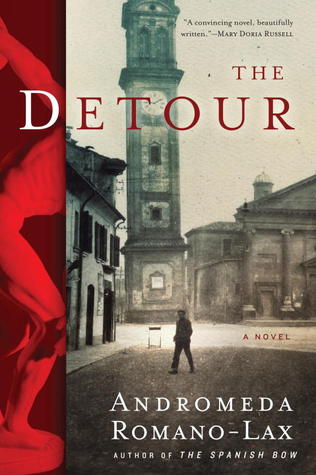 The Detour by Andromeda Romano-Lax is a well-written and time period atmospheric novel. In 1938 Germany, art expert, Ernst Vogler is sent to Italy by the Third Reich's Sonderprojekte, which is procuring Europe's masterpieces on orders from the Führer. Vogler is to see to the transport of a famous Classical Roman marble statue, The Discus Thrower, and deliver it from Italy to the German border. It is to be a simple three-day mission.
But things immediately go awry upon his arrival in Rome. Escorted by Italian police twin brothers, Vogler sets out to fulfill his assignment while not being able to really confirm if the sculpture is in their possession as they truck it to the Gestapo. Meanwhile, the brothers seem to have other agendas: the pursuit of romance and suspect criminal side jobs. Vogler loses control of the delivery. As the twins steer the task off-track and onto a detour in which Vogler fears he may lose his work position, the highly sought after work of art, his life. When the whole mission spins out of complete control Volger is forced to find a way to survive and meet totally unexpected challenges; while discovering beauty, charm and love along the back-roads of the Italian countryside on the brink of World War II.
The Detour is full of flowing prose, fascinating observations on art and sculpture, interesting Italian folkloric tradition details, reveals disturbing Nazi policies and values, and closes with a surprising ending.
Be awed and admire artworks of the past and do whatever it takes for a masterpiece to live on…
Stephanie Renee dos Santos:  Where and how did you glean your knowledge about sculpture? As there are many insightful passages about the medium in The Detour that I found exquisite and educational.
Andromeda Romano-Lax:  The original statue was a bronze, now lost, created by Myron in about 450 BC. Many Roman marble copies were made, and one can read here and there about the discoveries and histories of each; I found information online, in footnotes of art books, and in museum guides. But my greatest information came from seeing the statue in person, in Rome. Comments by art historians helped provide a context and helped me appreciate what I had the pleasure of seeing with my own eyes: a figure that is dynamic–about to release the discus–but also static, frozen in that aesthetically pleasing but not exactly realistic posture. (The inherent symbolism of that balance between action and paralysis intrigued me, offering parallels to the lives of Germans in the late 1930s, including my main character.) The discus thrower has a calm expression on his face. The musculature is perfect, and the male figure is generic, blending styles from two eras and speaking to an ideal (noble and impersonal; poised for action but not straining) that resonated greatly with German collectors. Perhaps the best thing about seeing the statue in its current location and visiting the place where it was briefly kept, in Munich, was being able to contrast it more easily with many other ancient statues, illuminating what was particularly special about this one coveted work of art.
SRDS:  What compelled you to include art and artist in your historical novel?
ARL:  I'd already written about classical music as well as more general artistic themes, including the subject of political pressure put upon artists, in my first novel, The Spanish Bow. I wasn't intentionally looking for a new art subject, but then I happened to see a photo of the Discus Thrower with a footnote explaining that Hitler was obsessed with the ancient marble and succeeded in buying it, against the objections of many, in 1938. I immediately wanted to know: what was so special about this statue? Why did it speak to Hitler, and how could one particular piece of art symbolize Nazi intentions? Through my first novel, I'd discovered many odd connections between the world's greatest art, politics, and individual obsessions. Looking only at a small photo, I couldn't tell why this statue would matter so much, but I felt the first tingles of a potentially fascinating exploration.
SRDS:  What drew you to your specific visual art medium, artwork, and/or artist?
ARL:  I love art and music but I had never spent much time looking at statues. All art begs to be seen in person, but a three-dimensional statue is really different in life than a photo of the same piece. I knew from the start I would have to visit this statue in Rome—not a bad "must" to have on one's to-do list! When I made that trip, in 2009, I loved being able to walk around the piece, seeing it from all angles, appreciating marble's qualities in natural light, and also seeing it in relation to other statues. When you think of the paintings and statues that are immediately recognizable to many people around the globe, there really aren't that many. Why does this statue represent the idealized human form; what does it say about beauty, athleticism, perfection, controlled emotions, dynamism without strain, ancient Greece and 20th century Germany? Why did it represent an artistic advance in one era, and an ideological tragedy in another? I wanted to find out.
SRDS:  What unique historical objects and/or documents inspired the story?
ARL:  The Discus Thrower itself, naturally. I also visited the Glyptothek museum in Munich, where the statue was kept prior to repatriation to Italy, and encountered an amazing art collection there, as well as a larger history of German art collecting, which pre-dates Hitler. (The Bavarian King Ludwig I was an avid collector of Roman and Greek art in the 1800s). Well before Hitler, many leaders have tried to acquire and control art and artifacts as a way of linking their nations to previous empires, legitimizing their claims of superiority, and shaping narratives that may encompass ancient myth, Biblical history, philosophy or science. Singular, recognizable works of art are potent symbols.
SRDS:  Is there an art history message you've tried to highlight within the novel?
ARL:  In this particular story, my main character, Ernst, is obsessed with the idea of the perfect body and the depiction of that perfection in ancient Greco-Roman sculpture. The idea of perfection itself, and the corruption of that idea into hatred of self or others, can be explored on many levels. It's troubling but irrefutable that art appreciation does not necessarily lead to compassion, morality, or love of mankind. Mussolini played the violin; Hitler was a failed painter; the Nazis as a group were rabid art collectors. Art for me represents one of the most beautiful expressions of humanity, but like everything, it has an extremely dark side. The unethical acquisition of art and the use of art (or destruction of art) for political ends is a key leitmotif in 20th century history.
SRDS:  What do you think readers can gain by reading stories with art tie-ins?
ARL:  Art teaches us something that is more important in a distracted age than ever before: how to slow down, to look. It connects us to timelessness—other people, other places, values both similar to and different from our own time—while inviting us to project our own stories and ideas onto and into the work. That makes it a great subject in fiction, which in its best form, allows us to see the world anew, challenges us to empathize with others, reflects our own experiences, and connects us with something larger.
SRDS:  What fascinating information did you uncover while researching but were unable to incorporate into the book, but can share here?
ARL:  I spent a lot of time learning about the Nazis' unprecedented, seven-year attempt to collect most of the Western world's art. That's a postscript to The Detour, which is set in 1938, so the full story doesn't make it into the book. But it helped me understand how this first, more innocent art purchase of a single statue foreshadowed a campaign to control art, period. I also enjoyed research digressions into Nazi documentary-making (including the controversial work of Leni Riefenstahl), Greco-Roman ideas about sport and the ideal body, details from the 1936 Berlin Olympics, the history of eugenics (including pro-eugenics movements in America) and much more. I have bits of these subjects in the novel, but I had to leave so much out. Everywhere I turned in my reading and research travels across Europe, art, the human body, and politics seemed to be connected.
SRDS:  Any further thoughts on art in fiction you'd like to expand on?
ARL:  Whenever we are in an art or history museum, we get more out of the experience by trying not just to see a physical object in front of us, but by using the object as a gateway into a larger story. It's an interactive, ongoing process. Really great art novels role model that way of looking for us, by presenting us with vivid, complex stories that bring art to life.
SRDS:  Are you working on a new historical novel with an art tie-in? If so, will you share a little with us about your next release?
ARL:  My next book, BEHAVE, features 1920s psychologists John and Rosalie Watson, so it's more about science (including the science of parenting) than it is about art. But I'm always on the alert for other art history tie-ins, since I love spending time learning about that world.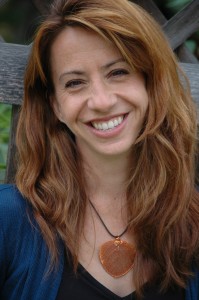 About the author:  Born in Chicago, Andromeda Romano-Lax is the author of The Spanish Bow, a New York Times Editor's Choice that was translated into 11 languages, and The Detour, as well as numerous works of nonfiction. She teaches in the low-residency MFA program at the University of Anchorage Alaska and is a co-founder of 49 Writers, a statewide literary organization. Recently, she has divided her time between Alaska, Mexico, and Asia. Her next book, Behave, will be published in 2016.
For more about Andromeda's works: 
Author website : http://www.aromanolax.com/
Facebook: https://www.facebook.com/pages/The-Detour-A-Novel-by-Andromeda-Romano-Lax/292416680782702
To buy: The Detour
Join us here August 29th for an interview with Frederick Andresen, author of The Lady with an Ostrich Feather Fan!
Interview posting schedule: 
2014: August 30th Susan Vreeland, Lisette's List (new release), September 27th Anne Girard, Madame Picasso (new release),October 25th Yves Fey, Floats the Dark Shadow, November 29th Mary F. Burns, The Spoils of Avalon (new release), December 27th Kelly Jones, The Woman Who Heard Color 
2015: January 31st Heather Webb, Rodin's Lover (new release), February 28th Alyson Richman, The Mask Carver's Son, March 28th Maureen Gibbon, Paris Red (new release), April 11th M.J Rose, The Witch of Painted Sorrows (new release), April 25th Lisa Brukitt, The Memory of Scent, May 30th Lisa Barr, Fugitive Colors, June 27th Nancy Bilyeau, The Tapestry (new release) , July 25th Andromeda Romano-Lax, The Detour, August 29th Frederick Andresen,The Lady with an Ostrich Feather Fan, September 26 Laura Morelli, The Gondola Maker
Join Facebook group "Love of Arts in Fiction"!