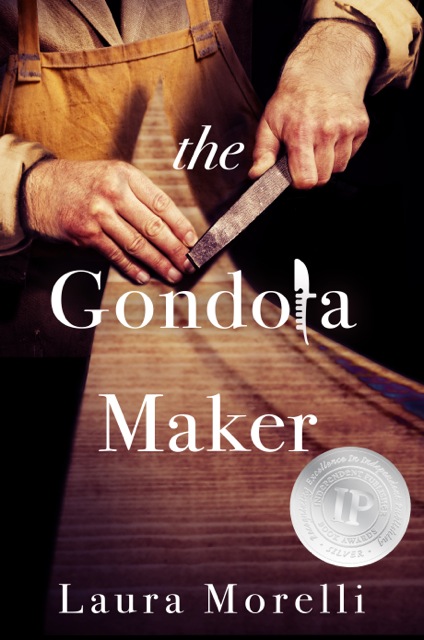 The Gondola Maker by Laura Morelli is a finely crafted novel like the Renaissance Venice, Italy gondolas the story features. The book celebrates and explores the tradition of boat making, painting, social classes, and bonds of family and craft. When disasters befall the Vianello boat makers, Luca Vianello, the heir to a renowned gondola-making shop believes his destiny lies elsewhere. He takes to the streets looking for a way to survive and lands in the trade of gondola oarsmen. His luck takes a turn for calmer waters when he finds work as a private boatman to a renowned local painter Trevisan. Here, unexpectedly, Luca discovers his family's legacy and his hearts calling while falling in love with a girl far from his social station and reality. And in time, he uncovers a dark and disturbing perversion of the powerful and learns the hard way what the costs are for blindly interfering with a deviant's plan.
Through Luca we delve deeply into the Venetian Republic and the history of  gondola making — its fascinating detailed process and history. Learning why gondolas are black, why they were burned, and the strict code of gondoliers and their secret language used to maneuver the vessels through the endless canals of the water-bound city. The story flows like a perfectly crafted vessel. Morelli brings us the heart and soul of beloved Venice , the insider's tale of its boat making traditions, the culture that rowed them, and the patrons that paid them. This novel stands out for the superb writing and the intimate details of how gondolas were built in the sixteenth-century and before, along with their accessories. Through the compelling and sympathetic protagonist, Luca, we live Venice through its rich arts and crafts and endless intrigues and waterways.
Stephanie Renee dos Santos: Is the antagonist, His Eminence Councillor, and the novel's painter, Trevisan, story lines based on real historical characters?
Laura Morelli:  The artist in the story (Trevisan) is not an actual historical figure. However, I did model him on a variety of Venetian artists of the time period such as Titian.
Neither is the antagonist (His Eminence) a real historical figure, but he is modeled on a member of the Council of Ten, the notoriously secretive governmental branch of the Venetian Republic. Part of their job was keeping the peace and thwarting corruption, so they weren't too fond of boatmen!
SRDS:  What compelled you to include art and artist in your historical novel?
LM:  I am traditionally trained as an art historian, and studied the great artists of the past: Michelangelo, da Vinci, and many others. However, once I realized the importance of living artisanal traditions within Italian culture, I was riveted; I wanted to know everything! It was the beginning of a journey that would take me from the Alps to Palermo, and become an obsession. The contemporary Italian artisans I interviewed, one after another, told me how important it was to them to pass on the torch of tradition to the next generation.
SRDS:  What drew you to your specific visual art medium, artwork, and/or artist?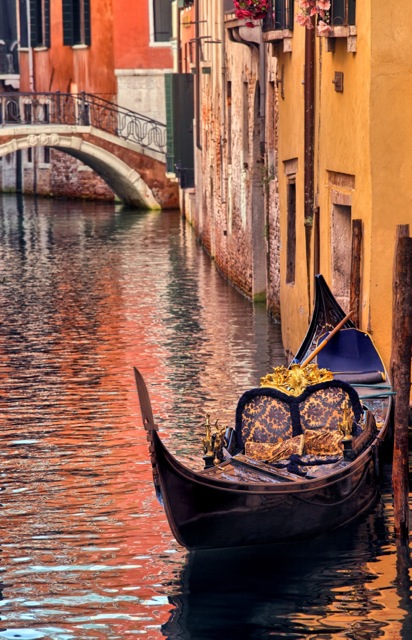 LM:  The story of The Gondola Maker developed while I was working on another book called Made in Italy. The living artisans I interviewed, whether makers of gondolas, carnival masks, or Murano glass, told me how important it was to them to pass on their trade. I began to wonder what would happen if the successor were not able…or willing. The characters of the gondola maker and his son—and their complicated relationship—began to take shape.
SRDS:  What unique historical objects and/or documents inspired the story?
LM:  I have been fortunate to live in Italy and to travel all over the country, but Venice holds a special place in my heart. If you described Venice to someone who had no prior knowledge of it, they might think you were making it up. It's mind-boggling to think that the entire built environment of Venice–everything from the humblest coffee shop to the grandest church–stands atop thousands of wooden pilings driven into the mud centuries ago. The city has been described as "impossible," and I think that's a good way to capture its essence. Perhaps no other object is so synonymous with its place of origin than the Venetian gondola.
SRDS:  Is there an art history message you've tried to highlight within the novel?
LM:   Whether in fiction or nonfiction, in my work I try to capture the excitement I felt when I first discovered the history of art. Those of us in academia are trained to write about art in a specialized style. I have the utmost respect for the craft of academic writing as well as those who spend their careers doing it. The down side is that academic writing comes across as dry and dull, full of terminology that is inaccessible to all but those of us who spend many years studying the field. But art history is the most fascinating subject in the world! I try to bring to non-art historians some of the specialized knowledge but also some of that passion that is so inherent to the arts.
SRDS:  What do you think readers can gain by reading stories with art tie-ins?
LM:  Art history is a fantastic subject, but just like any great story, a great art-related story is about the stories and the people behind these great traditions.
SRDS:  What fascinating information did you uncover while researching but were unable to incorporate into the book, but can share here?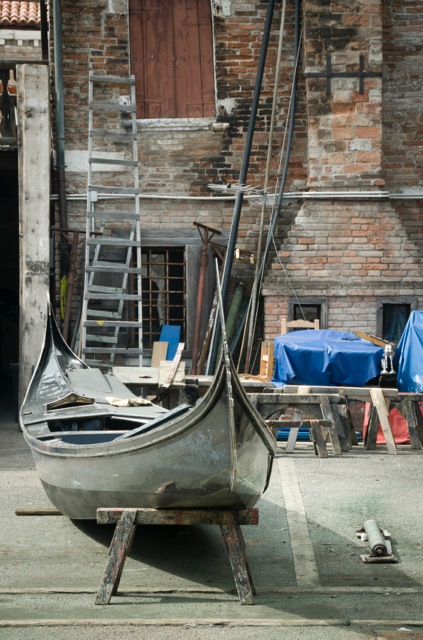 LM:  Wealthy Venetians owned one or more of their own private gondolas, employed their own boatmen as part of their servant staff to maintain their boats, dock them in private boathouses, and remain at their masters' disposal to ferry them around the city. Eventually, the gondola became a status symbol much like an expensive car, with custom fittings, elaborately carved and sometimes gilded ornamentation, and seasonal fabrics such as silk and velvet. Even after 1562, when Catholic authorities banned what was seen as sinfully ostentatious ornamentation and decreed that all but ceremonial gondolas be painted black, some wealthy Venetians chose to pay the fines, a small price to keep up appearances.
SRDS:  Any further thoughts on art in fiction you'd like to expand on?
LM:  I have always enjoyed historical fiction, and I love it when an author can bring the past to life through sights, smells, sounds, and sensations. Art a perfect path into sensory writing.
SRDS:  Are you working on a new historical novel with an art tie-in? If so, will you share a little with us about your next release?
LM:  I'm working on two new historical fiction projects right now. One of them continues the story of Venetian artisans. Another one focuses on the fascinating life and subjects of the Italian Renaissance Raphael. So many stories behind the world's works of art—whether true or imagined—remain to be told!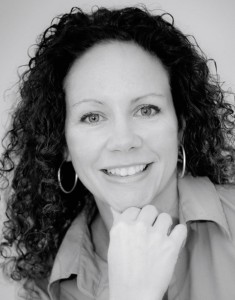 About the author:  Laura Morelli holds a Ph.D. in art history from Yale University, where she was a Bass Writing Fellow and Mellon Doctoral Fellow. She authored a column for National Geographic Traveler called "The Genuine Article" and contributes pieces about authentic travel to national magazines and newspapers. Laura has been featured on CNN Radio, Travel Today with Peter Greenberg, The Frommers Travel Show, and in USA TODAY, Departures, House & Garden Magazine, Traditional Home, the Denver Post, Miami Herald, The Chicago Tribune, and other media. She has also written and produced art history lessons for TED-Ed. Laura has taught college-level art history at Trinity College in Rome, as well as at several American universities. Laura is the author of the Authentic Arts guidebook series, and is well-known for her travel series that includes Made in Italy and Made in France. The Gondola Maker, a coming-of-age story about the heir to a gondola boatyard in 16th-century Venice, is her award-winning historical novel.
For more about Laura's works and to sign up for her newsletter: 
http://www.lauramorelli.com/
To buy: The Gondola Maker
This post concludes our series, profound thanks to all the authors and readers of this series!
For the Love of Art in Historical Fiction!
Interview posting schedule: 
2014: August 30th Susan Vreeland, Lisette's List (new release), September 27th Anne Girard, Madame Picasso (new release),October 25th Yves Fey, Floats the Dark Shadow, November 29th Mary F. Burns, The Spoils of Avalon (new release), December 27th Kelly Jones, The Woman Who Heard Color 
2015: January 31st Heather Webb, Rodin's Lover (new release), February 28th Alyson Richman, The Mask Carver's Son, March 28th Maureen Gibbon, Paris Red (new release), April 11th M.J Rose, The Witch of Painted Sorrows (new release), April 25th Lisa Brukitt, The Memory of Scent, May 30th Lisa Barr, Fugitive Colors, June 27th Nancy Bilyeau, The Tapestry (new release) , July 25th Andromeda Romano-Lax, The Detour, August 29th Frederick Andresen,The Lady with an Ostrich Feather Fan, September 26 Laura Morelli, The Gondola Maker
Join Facebook group "Love of Arts in Fiction"!